JCRC COMMUNITY PROGRAMMING
MORDECHAI ANIELEWICZ CREATIVE ARTS COMPETITION
For students in grades 7-12 in the Delaware Valley. Opportunity to respond to lessons of the Holocaust through creative expression - poetry, prose, painting, sculpture, music, dance and multimedia.
Entry deadline: Friday, March 6, 2020 For information: MA Arts Competition Requirements and Guidelines
_____
YOUTH SYMPOSIUM ON THE HOLOCAUST
Annual one-day program for students in grades 9-12 in the Delaware Valley, including discussion with survivors and educational workshop for teachers. Program runs from
8:30 AM - 1:30 PM

Gratz College
Tuesday, March 3, 2020
&
Thursday, March 5, 2020
Join the Jewish Federation of Greater Philadelphia for candle lighting, music, readings and prayers at the annual Holocaust Remembrance Ceremony, in partnership with the Philadelphia Holocaust Remembrance Foundation and the Association of Jewish Holocaust Survivors of Philadelphia. All are welcome.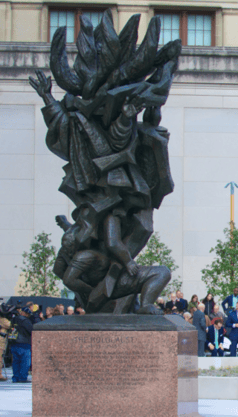 SUMMER PROFESSIONAL DEVELOPMENT
Penn State University Holocaust, Genocide & Human Rights Education Institute June 22-26, 2020 Penn State, University Park at the Nittany Lion Inn
Application deadline: January 31, 2020
Five-day professional development institute for middle and high school educators in all content areas from around Pennsylvania. Action plans developed during the program will be followed by an online mentoring group throughout the next school year. In partnership with the PA Department of Education and the Act 70 Advisory Board. Act 48 hours available. Limited enrollment.
To apply: tinyurl.com/yxg2o56x
______
Bearing Witness July 20-24, 2020 Daylesford Abbey, 220 S. Valley Road, Paoli
Rolling admission.
Residential professional development program for Catholic school educators, grades 6-12, focusing on the history of Catholic-Jewish relations and the Holocaust. Co-sponsored by the ADL and the Archdiocese of Philadelphia. For more information and application, contact Randi Boyette at rboyette@adl.org
______
Gratz College Summer Institute July 12-17, 2020 Melrose Park, PA
Open to non-matriculated students and well as degree candidates. Courses to be announced. See Gratz Summer Institute
______
U.S. HOLOCAUST MEMORIAL MUSEUM
2020-2021 Museum Teacher Fellowship Program
July 6-10, 2020 Washington, D.C. Application deadline: February 12, 2020
Designed for middle and high school teachers who have taught the Holocaust for five or more years. Advanced program to train a national corps of skilled educators to promote quality Holocaust education. Competitive admission. For application, see Museum Teacher Fellowship For questions, contact Program Coordinator Kim Blevins-Relleva at kblevinsrelleva@ushmm.org or 202-488-6145.
2020 Arthur and Rochelle Belfer National Conference for Holocaust Educators Washington, D.C.
English Language Arts Session: July 20-22, 2020
Social Studies/History Session: July 23-25, 2020
Designed for pre-service, middle, and high school teachers and community college faculty with less than five years teaching the Holocaust. Three-day conferences introduce Museum resources and pedagogical approach to teaching about the Holocaust. For details, contact Chelsea Halling-Nye at challing@ushmm.org
_________
Yad Vashem International School for Holocaust Studies
-2020 Summer Seminar: "Teaching the Shoah and Anti-Semitism"
June 28-July 16, 2020 Jerusalem, Israel Intense pedagogical sessions supplemented by field trips to other museums as well as historical and holy sites.
-Seminar for Educators in Jewish Supplemental Programs: "Teaching the Shoah and Anti-Semitism: Opportunities, Challenges and Techniques"
June 2020 (dates tba) Jerusalem, Israel
For application forms, see Yad Vashem Summer Seminars
BOOKS FOR YOUNGER READERS
The Brave Cyclist: The True Story of a Holocaust Hero by Amalia Hoffman, illustrated by Chiara Fedele. Capstone Editions, 2019. Exciting true story of Gino Bartali, Italian cyclist and winner of Tour de France, who risks his life to deliver false documents enabling Jews to escape. Bartali was recognized as Righteous Among the Nations. The Brave Cyclist
BOOKS FOR MIDDLE SCHOOL & ABOVE
Anne Frank's Diary: The Graphic Adaptation adapted by Ari Folman, illustrated by David Polonsky, Pantheon Books, 2019. First graphic edition of the diary is supplemented by extensive quotations from the Definitive Edition and is authorized by the Anne Frank Foundation in Basel. Sydney Taylor Book Award Notable for Older Readers 2019.
A Light in the Darkness: Janusz Korczak, His Orphans, and the Holocaust by Albert Marrin. Knopf Book for Young Readers, 2019. The famous account of Dr. Korczak, beloved pediatrician who accompanied his Warsaw Ghetto orphans to Treblinka, is expanded by the award-winning author to describe his philosophy of child-rearing in contrast to Nazi ideology. Korczak's philosophy became the underpinnings for the U.N. Declaration of the Rights of the Child.
Resistance by Jennifer A. Nielson. Scholastic Press, 2018. Fictional account of a Polish teenaged girl who passes as a non-Jew with forged papers. Working with the Polish resistance as a courier, she later joins the Warsaw Ghetto Uprising. Sydney Taylor Book Award Notable Book for Teen Readers 2019.
What the Night Sings by Vesper Stamper. Alfred A. Knopf, 2019. Saved by music, surviving Auschwitz as a member of the Women's Orchestra, liberated Gerta Rausch works to reclaim her voice and find a new life for herself, but she's still haunted by what happened in the concentration camp. Sydney Taylor Book Award Gold Medalist 2019.